Tree Trimming/Right-of-Way
WFEC cuts & trims vegetation:
It takes dedication and constant attention to maintain our distribution system. Tree limbs, rotted wood, and underbrush all increase the chance of broken poles and lines, and the disruption to our system for possibly hundreds of members. To prevent such damage, WFEC has a program for keeping rights-of-way clear around power lines. By removing tree limbs and controlling undergrowth, we lessen the chance of damage to our power lines from falling limbs and brush fires. All of this helps provide reliable service to members.
If additional trimming is needed along service drops, please contact WFEC for more information.

Please remember a 15 ft. distance from all powerlines should be maintained when planting trees.

If you have vegetation you believe may interfere with your electric service or create a safety hazard, please contact the Right-of-Way Department at (800) 342-7400 or use our contact us form.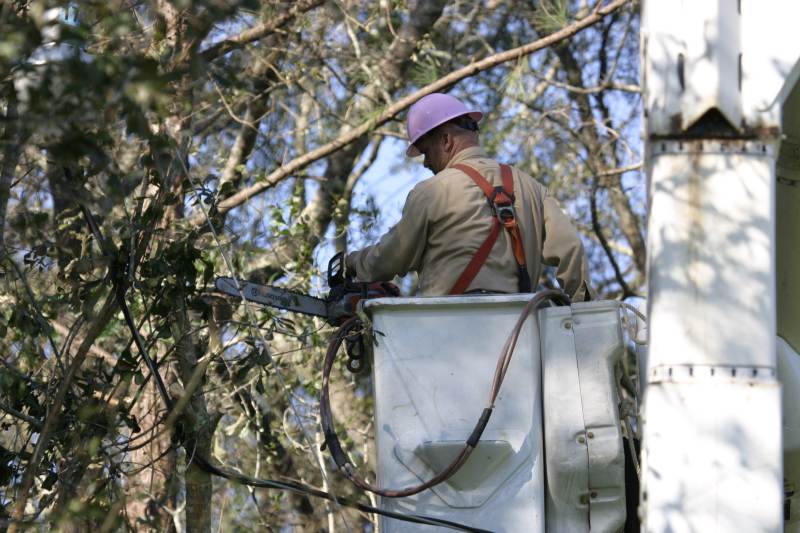 WFEC works hard to prevent outages before they occur. A vital part of doing so is through an aggressive and on-going right-of-way maintenance strategy. Our strategy for right-of-way maintenance involves dividing our system into sections. Each year, crews focus on a different section to mow, cut and spray dangerous growth in the right-of-way. We currently trim in a four-year cycle. We work a different part of our system every year, until we have covered the approximately 4,8000 miles of overhead power lines through the 4 counties we serve. In the fifth year we go back and start over with the first section. To address problems that arise between cuttings, we have crews to handle that.